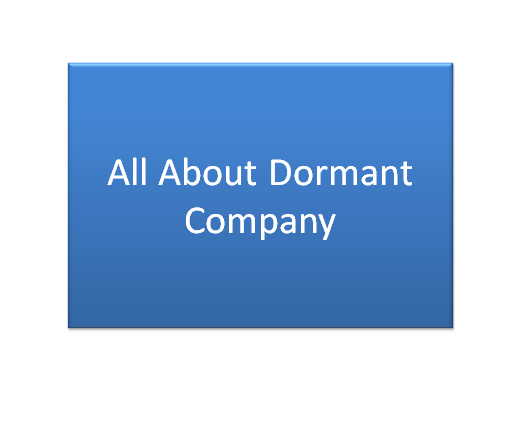 Meaning of dormant company
As per section 455 of the companies act 2013
Means a company registered with object
To hold intellectually property or asset for future project and
Having no significant accounting transection
Inactive company

such company may make an application to registrar of company for obtaining status of dormant company
Significant accounting transection means any transection carried out by company other than mentioned below
Fee payment to registrar of company.
Compliance of companies act or any other laws and regulation.
Allotment of share.
Payment of office rent.
Maintenance of record.
All above transaction are not considered as significant accounting transaction thus a company may carry on even during dormancy period.
Inactive company means any company
Which is not carrying on business since incorporation.
Having no significant accounting transection during last 2 financial year .
Which had not filed financial statement and annual return during last 2 financial years.
The following conditions required to be fulfilled before applying for obtaining status of dormant company.
No inspection, investigation or inquiry is pending or has been ordered against company.
Company must not have accepted public deposit which is outstanding.
Company has not defaulted in repayment of deposit and or interest on such deposit.
No any prosecution is pending or ordered against the company.
The company has not defaulted in payment of workman dues.
The company does not having outstanding statutory dues (Govt Tax etc.)
Company is not registered with intention to deceive or defraud to its creditor or members.
Share or securities are not listed on stock exchange either within or outside India.
There is no management dispute in company and also required certificate from management that no dispute is in between management.
The company should not have outstanding loan either secured or unsecured and in case company having loan then NOC from lender is required
Steps or Procedure for obtaining dormant status
Steps 1:- call board meeting
o Pass resolution to obtain status of dormant company
o Authorize director to make an application
o Certificate from auditor
o Pass resolution for calling Extra-ordinary General Meeting
Step 2:- Hold Extra-ordinary General Meeting

o Pass special resolution and obtain member consent for obtaining dormant status.
o Prepare document for filing with Registrar of Company.
Step 3:- File application to Registrar of company in Form MGT-14
Document required for filing of Form MGT-14
o Certified True Copy of special resolution passed in EGM
o Explanatory statement
Step 4:- File MSC-1
Document required for filing of Form MGT-14
o Certified True Copy of resolution passed in board meeting.
o Certified True Copy of special resolution passed in EGM.
o Auditor Certificate.
o Explanatory statement.
o Statement of affair of company certified by chartered accountants.
o Management certificate stating that no dispute is in between management.
o Consent of lender in case company having outstanding loan.
Here process comes to end for obtaining status of dormant company
After successful submission of form to ROC a automatic system generating certificate shall be send to company's mail
Compliance after obtaining status of dormant
The dormant company shall file declaration in MSC-3 within 30 days of end of financial year.
If the dormant company carried out significant transaction during dormancy period then. director shall make an application in Form MSC-4 within 7 days of date of transection
Process to get the active status of dormant company
If dormant company wants to get active status of company then director of the company shall file Form MSC-4 along with document
Other Compliances
Dormant company must have minimum number of director and member
Dormant company shall call and hold at least 1 board meeting in half calendar year and gap between two board meeting should not be less than 90 days
Benefit of dormant company
To hold intellectual property in the name of the company
Note:
MSC -1:- Application for obtaining status of dormant company, certificate that there is no dispute in the management or ownership of the company, there is any outstanding unsecured loan obtaining concurrence of the lender
MSC-2:- Certificate granting the status of a Dormant Company
MSC -3:- Return of dormant companies
MSC -4:- Application for obtaining status of an active company
MSC -5:- Certificate allowing the status of an active company to the applicant