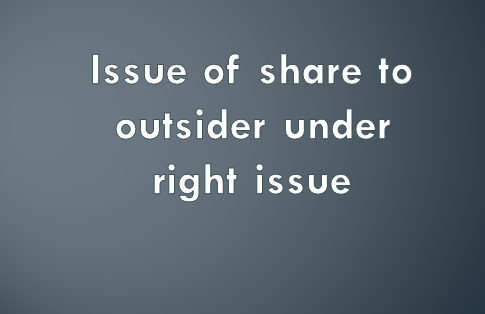 Issue of share to outsider under the cap of right issue as per The Companies Act 2013
This concept mostly happens in case of seed funding and angel funding and growth funding. Under this concept company issue share to outsider under the name of right share at higher price and get the fund from outsider to seed their business or for growth / expansion of company.
Further as per The Companies Act there can be 200 Member in private limited company
The above whole concept is govern through the process of renunciation of right share by existing share-holder in favor of outsider and outsider accept the application and make payment of application money along with letter of renunciation and letter of renuncee.
Procedure on the part of company
• The company while preparing offer letter should include right of renunciation in offer letter
Procedure on the part of shareholder
• The shareholder who do not wants to subscribe right share may renounce such share in favor of other person
• When shareholder who renounce such right share shall require to submit letter of renunciation to company
• The shareholder may subscribe part share and renounce balance of share in favor of other

Logic of renunciation

Shareholder :- the one of the biggest reason is due to fund crunch shareholder renounce right share to other person

Other person / buyer / renuncee :- generally right issue is at lower price than actual market price and shareholder charge less for renouncing such share and renuncee get share at lower rate than market price

Consequences when shareholder neither subscribes right issue nor renounce such share
• When right issue share neither subscribed by existing shareholder nor renounce then board may disposed off such un-subscribed share.
• Another one is board may allot such un-subscribed share to any other person.
• Usual practice is board ask to existing shareholder to subscribe such un-subscribed share
Note :-
This is additional procedure
it is advisable to read our blog "issue of right share under The Companies Act 2013 before reading this blog
The Companies Act does not restrict to issue of share other than cash consideration
Note:- reader of this blog are request to read first procedure of right issue under the companies act 2013