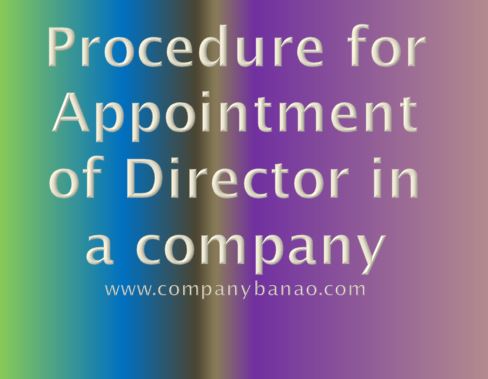 Perquisite of appointment of director
As per section 152 (3) of the companies act 2013 no person can appointed as director until unless he has been allotted DIN under section 154 of the act
Every person who is proposed to be appointed as director must furnish their
a. DIN to the company
b. A Declaration that he is not disqualified to be act as director
c. Consent to act as director in DIR-2 shall be filed by director to company within 30 days of appointment.
Company shall intimate to Registrar of Companies about the appointment of Director in form DIR-12 within 30 days of such appointment
Appointment of Additional Director
As per section 161(1) of The Companies Act 2013 the board at any time at its discretion, appoint additional director but such power of board must be confer by article of the company. The person who fails to get appointed as a director in general meeting cannot be appointed as additional director

Term of additional Director
The tenure of the additional director shall be till the date of AGM or the last date on which the annual general meeting of the company should have been held whichever is earlier.
Right and duties of additional director
An additional director shall have same right and duties as that of any other director.
The above provision is applicable to both private and public company.
Appointment of alternate director
Section 161(2) of The Companies Act 2013 gives power to board of director to appoint alternate director to act as director in place of original director during his absence for the period of 3 month or more from India.
Purpose of appointment of alternate director
a. To facilitate the smooth functioning of affair of the comoany
b. To solve out the problem relating to lack of quorum

Condition for appointment of alternate Director
a. The board of director of the company may appoint alternate director in place of original director if original director is absence for the period of 3 month or more from India.
b. A person cannot be appointed as alternate director if he is already holding any alternate directorship in any other companies.
c. A person can be appointed as alternate director only if he is qualified to act as independence director

Power to appoint alternate director
The board of director can appoint only if authorised by article of the company. Member have no right to appoint alternate director. The member only can empower to board to appoint alternate director

Manner of appointment of alternate director
Alternate director can be appointed by passing resolution at meeting or by passing resolution by circulation.
Period of office of alternate director
a. Tenure of the alternate director shall come to end when original director return back to India or
b. Till the period of original director
Provision for alternate director applies to both private and public companies