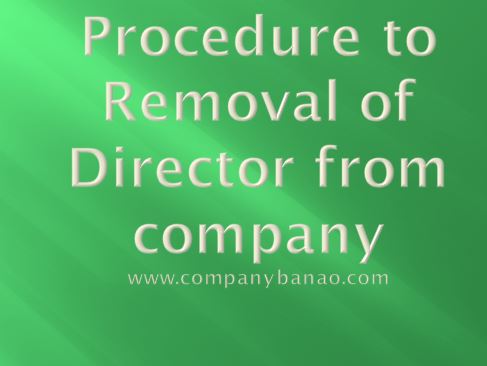 Removal of director by Shareholder
Section 169 of the companies act 2013 empower to share holder to remove director before the expiry of the term of director by giving notice to the company. And hence a company may by passing ordinary resolution remove a director before expiry of the term of the director.
Procedure for removal of director
a. Notice for removal of director must be given at least 14 days before the general meeting but not earlier than 3 month before the date of general meeting.
b. Notice shall be signed by member holding not less than 1 % of total voting power. Or member holding paid up share capital of Rs. 5,00,000.00
c. On receipt of such notice a copy of notice shall be forwarded to concerned director
d. The concerned director shall give a reasonable opportunity of being heard and concerned director shall have right to make written representation against removal
e. The written representation shall be forwarded to every member of the company.
f. At the general meeting the proposal for the removal of director is to be discussed and if the resolution for removal is passed at the GM then director shall be removed from office
Some general points
Member giving special notice for removal of director need not to specify the reason or ground of removal of director
The following director can't be removed under section 169
a. Director appointed by central government under section 408 of the companies
b. Director appointed by Tribunal under section 242 of the companies
c. Director appointed by Proportional representation under section 163 of the companies
d. Nominee Director Appointed by financial institutions.